Companies
Many of the makers of AAC devices offer helpful information on their web sites. This may include technical support information, teaching tips, programming guides, and even free downloads of the software that comes installed on their devices. Several prominent vendors are listed below.
Makers of Pathfinder, Springboard, Springboard Lite,Vantage, Vanguard, and Eco communication devices. Click here for their PASS software, which allows you to create, modify, and save vocabularies, then load them into your communication aid. Product support by device is available, too. Ideas for teaching language skills incorporating AAC devices can be found on their site as well.
Local Consultant - Tami Taylor, M.A., CCC-SLP
E-mail: tjt.cons@prentrom.com
Phone: 800-262-1984 ext. 452

Dynavox is now a division of Mayer-Johnson company. They are makers of the VMax, Xpress, Tango and M3 communication devices. Click on the "training" link to access online lessons for programming and implementation. (note: free registration is required)
Local Representative - MATTHEW HILDEBRANDT
E-mail: matthew.hildebrandt@dynavoxtech.com
Phone: 1-866-396-2869
Tobii Assistive Technology, Inc. (Tobii ATI) is a developer of innovative hardware and software solutions for people with disabilities.
Local Representative -
Dani Mohn
San Diego, CA
Phone: 858-679-9538
Cell: 619-871-8918
Fax: 858-679-9539
E-mail: dani.mohn@tobiiati.com
http://www.tobii.com/en/assistive-technology/north-america/Contact/north-america/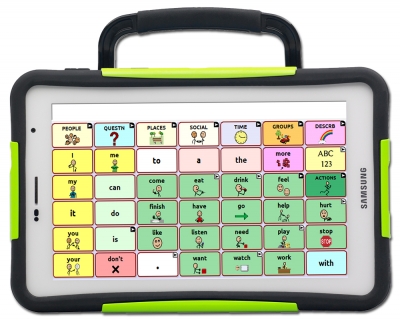 Saltillo develops, manufactures and distributes assistive technology for persons with physical disabilities. The company specializes in voice output communication devices. Saltillo also offers voice amplification and memory assistance products.
Representatives- Sheri Predebon
Email: sheri03@cox.net
Phone: (602) 295-9987
While the Logan ProxTalker may look like a 'low tech' device it is actually quite sophisticated technologically. The Logan ProxTalker uses RFID (Radio Frequency Identification) technology similar to your fast pass that speeds you through the toll booth quickly. An RFID silicon chip component is embedded in each Sound Tag and programmed with an identifier specific to the word or phrase it represents. The ProxTalker's circuit board has five on-board antennae to read the Sound Tags. When a sound tag is placed onto one of the ProxTalker's five word zones and pressed the ProxTalker's circuitry reads the sound tag and plays the word associated with the Sound Tag.
Advanced Multimedia Devices, Inc. (AMDi) is dedicated to improving the lives of people with severe speech disorders by providing augmentative and alternative communication (AAC) devices. We manufacturer a full line of communication products from single message through dynamic screen communicators. AMDi also provides unique AAC solutions in the form of special switches and activities geared to national content standards.
Devices such as Partner Series, Tech/Talk, and Tech/Speak
"...dedicated to making a difference in the lives of people with disabilities by creating products and ideas that make teaching students with disabilities easy, fun, and fulfilling."
Devices include Step-by-Step, Supertalker, and Fl4sh
"Enabling Devices is a company dedicated to developing affordable learning and assistive devices to help people of all ages with disabling conditions."