****Warrior Brags 2018-2019****
Custodial Crew Recongized
Westwood students Will Larsen and Kyle Flynn with the assistance of the Art Department made banners as an appreciation to our facility and custodial crews. They appreciate all the work keeping the school clean and safe for school!
Math Club places 1st
The warrior pride flag flies for: The Westwood Math Club. Last Thursday the Westwood Math Club placed 1st at the Marquee Math Competition among 12 schools across the state winning 2000 dollars for their club. The team consisted of Aviva Bergman, Gordon He, Jeffy Ngo, Jordan Tuter, and Liam Wilson. Congratulations to these people and the Westwood Math Club!
Track heads to State
State track - Jeremiah Reed HJ, LJ, Christian Payne LJ, TJ, Tarique Gowdy TJ, Paul Moreno TJ, Rahni Turner 100m hurdles, 300m hurdles, LJ, HJ, Nizarya Eubanks LJ, TJ, HJ, Amaya Meeks TJ, Amreah Hutchinson LJ, TJ, girls 4x100m and girls 4x400m relay.
Art Show!
Many kudos to the Westwood Art Department for an outstanding Art show today! This year Westwood student won 26 ribbons at the district art show placing them in 2nd place out of the High Schools! Keep up the great work!
8 - 1st place ribbons
6 - 2nd place ribbons
9 - 3rd place ribbons
3 - honorable mentions
Cupcake Wars at Westwood
Congratulations to Leslie Leon, Paulina Mendoza, Alied (Alejandra) Montes, and Talyah Salazar for winning the Cupcake Wars contest with "Garden Gnomes". If you have these students in your class, or you see them around campus, congratulate them on their hard work and creativity. Thank you to everyone who voted!
Liam Wilson and Rebecca Patrick - Flinn Winners
Flinn Scholar Liam Wilson with his Distinguished Educator, Rebecca Patrick were honored by the Flinn Foundation on May 4th. Only twenty teachers and students across the state were recognized by this distinguished foundation. Congratulations! #WarEagle
Westwood Math Club
Westwood Math Club placed 1st at the Marquee Math Competition among 12 schools across the state winning 2000 dollars for The Westwood Math club. The team consisted of Aviva Bergman, Gordon He, Jeffy Ngo, Jordan Tuter, and Liam Wilson. Congratulations to the Westwood Math Club, today warrior pride flag flies for you!
Video Production is the BEST
Video Production crew from Mr. Ross class for winning the Best award by their organization!
Teacher of the Year goes to....
Congratulations to Ms. Shirley Thomas for winning the Mesa Chamber of Commerce Teacher of the Year for Mesa Public Schools. Ms. Thomas was recognized last Thursday at a dinner by the chamber of commerce.
Students of the Month
Congratulations to our students of the month! Julio Ortiz, Paula Rivero Quniteros, Aviva Bergman, Brianna Cruz, Christopher Rodiguez, Shea Cipolla, Stephanie Guerrero Tellez, Skyler Crockett, Nathan Yi, Esmeralda Juarez-Contreras. Way to go!
Louder than a Bomb Poetry Slam
Congratulations to our poets who competed in the Louder than a Bomb Poetry Slam this month at the Mesa Arts Center. Poets competed in teams, presenting individual and team pieces that WOWed the audience. If you see a poet in the hallway, give them a fist bump to celebrate their hard work this year.
Track Competes in Sun Angel Classic
The track team competed in the Sun Angel Classic held at ASU on Thursday and Saturday. Rahni Turner continues to impress us with some outstanding performances placing 2nd in the 100m hurdles 14.10, Long Jump 17'1 and 4th in the 300m hurdles 45.71. Christian Payne jumped into 2nd place in the triple jump with a PR of 44' 6". Also placing in the boys triple jump was Tarique Gowdy 42' 5 and Trey Haynes 41'3". Jeremiah Reed placed 6th in the boys long jump with a 21 ft jump and Nizarya Eubanks finished 4th in the girls triple jump with 35'1". Our next big meet is here at Westwood on Friday. We will be hosting the Hohokam Invitational with 40 teams participating. Come out and support our team!
Congratulations to the cadets of Westwood HS, Unit AZ-801!
Congratulations to the cadets of Westwood HS, Unit AZ-801 for earning the Distinguished Unit for Award (DUA), academic year 2018-2019, proving themselves to be in the top 10% of all units across the world. Another streamer will be added to their flag and each cadet who participated in the program this year is now authorized to wear the DUA ribbon. They not only established and met lofty goals, but they set the standard. This award recognizes the personal growth and accomplishments of the cadets, the contributions of the instructors as mentors of the cadets, and the support of the school and community. It's limited to the best of the best of our nation's 884 AFJROTC units across the US and at selected schools in Europe, the Pacific and Puerto Rico. Total enrollment includes more than 102,000 cadets. Westwood cadets performed above and beyond expectations, distinguishing themselves through outstanding service to their school and community while meeting the AFJROTC mission of producing better citizens for America. Cadets in the program are trained in citizenship and life skills as it promotes community service, instills responsibility, integrity, and self-discipline through character education, and provides instruction in air and space fundamentals. 5/14/2019
AVID Success Team
Below is a link of a podcast done through MPS technology with our innovative AVID Success Team. They discuss how they are working together for student success. The title alone is exciting "conversations with radical educators who are casting out antiquated strategies and allowing 21st Century skills to rise up." Great job Vatricia Harris, Peggy Beesly, and Kelsey Meeks! War Eagle!
Be Inspired Here! https://sites.google.com/mpsaz.org/mpspodcast/home
Girls Track on a Hot Streak!
Congratulations to the girls track team who continued their winning streak with some outstanding performances. Last week they won against Dobson and Mesa and last night beat Basha and Horizon. Shout out to Rahni Turner, Nizarya Eubanks, Amreah Hutchinson, Amaya Meeks, Arleanna Arreola and Sierra Madvig! The boys team came in second with great performances from Christian Payne, Jeremiah Reed, Joseph Kroll and Joshua Mcclintock. Way to go track!
Westwood Students score top 10%
Congratulations to the following Westwood students who scored in the top 10% on the 2019 Arizona State math competition: Keanu Chandra,Thor Eckman, Megan He, Jeffy Ngo, and Gordon He.
AFJROTC
Westwood's AFJROTC traveled to South Mountain High School in Phoenix, AZ for the Gallegos Drill Meet. The team did well garnering the following awards: First Place Unarmed inspection, second place unarmed regulation, second place armed inspection and third place armed solo. Way to go ROTC!
Track Team Continues Their Sucess
The track team continued their success at the Toro Invite on Friday. Our athletes brought home some more state qualifing marks and a bag of medals. Top performances were:
Rahni Turner 1st 400m 60.03, 1st Long Jump 17'5, 2nd 100m hurdles 14.42
Nizarya Eubanks 1st Triple Jump 36' 10, 2nd Long Jump 16'2, 3rd HJ 5'
Amaya Meeks 4th Long Jump 16' Triple Jump 33'1
Arleanna Arreola 3rd 800 2:34
Jeremiah Reed 1st Long Jump 20'9
Tarique Gowdy 2nd Triple Jump 40'1 3rd Long Jump 20'5
Christian Payne 1st Triple 43'1
Paul Moreno 4th Triple Jump 40'
Joshua McClintock 2nd 100m 11.07, 3rd 200m 23.14
16th Annual Social Pow Wow
The Native American Club would like to thank Mr Gilmore "for supporting us and welcoming the audience at the powwow this weekend." We would also like to thank Ms Lewis, Mr Hill, Ms Jameson, Ms Karola and Dr Block for volunteering to help. Thank you to the Native American club members and student volunteers in helping as well. We could not have a successful powwow without volunteers such as yourselves, we appreciate the generosity of your time and hard work.
Voices Writing Contest Winners Announced
Congratulations to the following Voices writing contest winners:

Narrative: Huda Mohamed and Timbutu Wilkerson

Poetry: Chevelle Walker, Guadalupe Castro, Julianna Roberts, Natalie Schultz, Sedona Cisneros Bowers, and Catherine James

Essay: Ivan Mix, Samantha Andres, Benjamin Casino, Tara Ruhland, Monica Carpenter, and Natalie Schultz
February Students of the Month
Congratulations to our February Students of the Month! Marissa Sala, Charlie Saifi, Asheley Figueroa, Jose Gurerrero, Rydell Maryboy, Teressa De Micco, Elizabeth Perez, Jada Mendoza, Kaitlyn Stiles and Malaki Arellano. Student of the month lunch will be Tuesday, March 19th. Way to Move Up!
Tom Saxon named Robotics Teacher of the Year!
Not that anyone is surprised, but Mr. Saxon was named Robotics Teacher of the Year at the NAU competition. Way to go Mr. Saxon!
Acdemic Decathalon Team takes 3rd place
The academic decathalon team won 3rd place at the state competition!
Westwood Robotics team won the AZ North Alliance!
Westwood Robotics team won the AZ North alliance and qualified for Worlds in Houston Texas which was held at Northern Arizona University!
Seniors Sandra Franco and Jessica Saenz-Gomez are Mesa Students of the Year!
Westwood is proud to announce that 2 of the 4 Mesa Students of the Year attend Westwood HS and were recongnized last night! If you see Seniors Sandra Franco and/or Jessica Saenz-Gomez - Congratulate them! Way to Move Up! 2/19/2019
Westwood FFA Horse Evaluation Team and Livestock Judging Team
Both teams took 1st place at the FFA Spring CDE contest representing Superstition District. They will be competing at State on March 1st!
FFA/Mr. Booth/Kissing Cow
Westwood Students worked with the FFA to raise over 400 pouds of food. Mr. Booth's class collected the most so that they could watch their favorite teacher Kiss the Cow!
MPS District SciTech Expo held at Westwood
For the 2nd year in a row, Westwood hosts Mesa Public Schools SciTech Expo.
DECA Still Moving Up!
Today the warrior pride flag flies for our winners at the State DECA Competition this past weekend... Kalena Oorlog received a testing medal for being in the top 10% of all Marketing students. Cory Westad received both a testing medal for top 10% of Marketing students and a medal for making finals in his event. Jack Ruiz received a testing medal for top 10% of Hospitality students, finalist medal, and placed 3rd overall in the state for his event, making him eligible to attend the International DECA Conference in Orlando Florida! Way to go DECA, today the Warrior Pride Flag flies for you!
Governor and Mayor visits Westwood's CTE
Interact Club works with Mesa High Link Crew
Westwood Staff and Interact Club Members, along with Mesa High Link crew worked together to provide over 800 emergency bags at United Food Bank.
Front Office Receives Kudos
Front office receives kudos from parent - "I am not sure where to leave a parent comment - but I just want to say that the attendance and greeting desk personnel here at Westwood High School are amazing! I have dealt with staff at other high schools and never have I experienced the warmth, helfulness and sincere caring as I have here. Thank you so much! L. St. Amand 2/2018
Wrestlers take 1st and 2nd
Congratulations to Charles Boyle who took 1st Place in Boys Wrestling and Matt Eager who took 2nd! Today our Pride flag flies for you!
Westwood Science Fair
Science Department hosted their annual Westwood Science Fair in the Mini Gym. Out of the 50 projects here are the winners by Division:
Engineering: 1st Ivan Mix 2nd Chelsea Vazquez and Rachel Sanchez 3rd Julian Red and Juan Gallardo Animal Science: 1st Lizbeth Montano and Katzya Flores Behavioral/Social Science: 1st Isabella Bohn 2nd Tyler Early, Ian Wylie, and Iszack Mendoza 3rd Robert Blanco Biochemistry: 1st Samantha Andres, Brinn coopey, and Brooke Major Chemistry: 1st Thor Eckman Energy and Transportation: 1st Grace Price 2nd Blake Guinn Environmental: 1st Adan Bojorquez, Deion Begay, and Jesus Castillo 2nd Mariah Chase 3rd Briauna Hebert and Leta Collins Medicine and Health: 1st Addy Bowlby and Amreah Hutchinson 2nd Luke Jezek, Colin Campbell, and Elijah Talbott 3rd Elle Arnett and Manon Dampt Microbiology: 1st Mykenzie Almquist, Izzy Awadallah, and Grecia Miranda Felix Plant Science: 1st Natacha Kiriluk 2nd Emma Biggs 3rd Fiona Portmore All First Place projects will be representing Westwood at the Mesa Public Schools Science and Engineering Fair on February 27 and 28.
Girls Basketball Advances to Playoffs!
Westwood Girls Basketball team wins and now advances to playoffs!
Girls Soccer Team Advances to Playoffs
Congratulations to the girls soccer team for advancing to playoffs for the first time ever! They will be playing tonight in the first round at 6 o'clock at Xavier. Come show your support!
Westwood Hackers Take 1st
Congratulations Westwood Hackers Summer Gautier, Mariela Tarin, and Luis Morales Marquez for winning 1st place in Web Design and Cyber Security for Arizona's FBLA Competition over the weekend. 2/2018
Westwood Celebrates School Counselors and Psychologists Week
Westwood appreciates all of our school counselors and psychologists. They have been so busy working with registration for next year and still helping our current students. Today our Flag Flies for you!
Westwood Academic Decathlon places 2nd in Regionals!
Westwoods Academic Decathlon team placed 2nd overall in the Regional Competition (beating Mt. View) Paula Rivero Quintero placed 1st in the Varsity division!!! She won Gold medals in Music, Science, Economics, and Social Science. Silver medals in Art and Essay, and a Bronze medal in Language and Literature. Because Paula placed 1st in her division, she won a scholarship to an in state school.
Gordon He placed 3rd in the Honors division. He won a silver medal in Math and bronze medals in Language and Literature and Economics. Placing 3rd in his division has earned him a scholarship to an in state school.
Bryce Wilson placed 3rd in the Scholastic division. He won gold medals in Music and Social Science, and silver medals in Langlit, Science, and Art. Bryce has also earned a scholarship to an in state school by placing in the top 3 of his division!
Liam Wilson won gold medals in Language and Literature and Interview, and a silver medal in Science.
Thor Eckman won a bronze medal in Math.
Sunil Devaraj won a silver medal in Interview and a bronze medal in Science.
Nathan Shults won a gold medal in Math, silver medals in Science and Economics, and a bronze medal in Interview.
When you see these kids on campus, cheer them on as they prepare for the state competition in March! 2/2018
War Eagle Registration Night
Thank you to everyone who stayed late and helped make our kickoff to the registration for the 19-20 school year a huge success. All departments, clubs, and athletics were well represented. Thanks to Link Crew and Student Council for helping set up and take down the event. Special thanks to Kristen, Jen, and Kris and the rest of Student Advisement for orchestrating this well attended event. Our students are lucky to have such a caring and dedicated staff. 1/14/19
Westwood Girls Wrestling
Westwood's Girls Wrestling team placed 3rd overall out of 26 teams this past Saturday!! 1/22/19
Westwood earns top designation for Civics Engagement
Today the Warrior Pride Flag flies for Westwood High School! We just found out that our school has earned the top designation for Civics Engagement by the State of Arizona - we are a School of Excellence. There are only a handful of school across all of Arizona that were able to earn this distinguished recognition. This is a huge honor and is only possible because of the amazing faculty we have on campus who work so hard to engage our students in civic-minded education. A special thanks to Mrs. Murphy and Dr. Davis for working through the application process as well. Congratulations Westwood High School, keep moving up! 1/11/2019
Westwood Wrestling
Attention Westwood, the Boys and Girls wrestling team, had some great success over winter break and had a great first week back in school. Please congratulate the following; Charlie Boyle and Stefanie Valencia for winning the Moon Valley Invitational, Matt Eagar and the girls team for winning the Centennial Invitation, 9th graders Taliyah Armstrong and Isaiah Herder from winning the Anthony Robles tournament, Isaiah Valle/Stephanie Valencia for taking third at the Robles tournament and please congratulate the entire wrestling team for dominating against Tolleson and Copper Canyon last week. Wish them luck this week as they travel to Mountain View on Wednesday and Winslow this weekend. 1/13/2019
Westwood DECA
Westwood DECA shined Thursday at their District Competition on the campus of ASU Polytechnic! Taking 1st place in their event were Skye Brown, Odalys Ruiz, Cory Westad, Sahra (Sahara) Husen ,Kennedy Armer, Kalena Oorlog , Jack Ruiz, German Vazquez, Melissa Loza, Gaby Anguamea Bianca Grajeda" Best of luck at the State Competition." Special shout out to all the judges who volunteered from WHS Mr. Lara, Mr. Heibel, Mr. Nosko & Mr. Forster. 12/13/2019
Chess Club
3 Chess Club members played in a Tournament over the weekend. The team took a 2nd place trophy. Athen Jones took 4th place in his section. Congratulations to Alek Wilkes, Alanna McCabe, and Athen Jones! Go Warrior Chess! 12/10/18
Emmanuel Garcia
Emmanuel Garcia graduated from the Mesa Police Explorer Program to the next level which is the Cadet Program. The Explorer program is dedicated to preparing young men and women between the ages of 14 -18 for a future career in police enforcement by developing leadership skills and a fundamental understanding of police procedure. 12/7

Girls Basketball Team
Westwood Girls Basketball Team is highly motivated and dedicated to their sport. They show immense pride when speaking about their team mates. The girls respect the sport and it is a privilege to watch our Lady Warriors play basketball. 11/21
Marching Band and Color Guard
Today we fly the Warrior Pride Flag for the Westwood Warrior Marching Band. The band finished their season with a bronze medal for their 3rd place finish at the AZMBA State Championships. This past weekend the Color Guard also took the high caption award for best color guard. Congratulations Marching Band on a great season! 11/14
Marching Band Earns Bronze
Congrats again! The marching band earned a bronze medal at the AZMBA Championships! One week left for the State Championships at ASU Stadium. Here is a video of Saturday's performance: https://www.youtube.com/watch?v=1SxqxY-gP6g&t=6s 11/13/18
Veteran's Day
Today our Warrior Pride Flag flies for our Veterans! If you see one of these fine ladies or gentlemen on
campus, take the time to thank them.
Jeff Eastman US ARMY
Fayth Boso US ARMY and National Guard
Cheri Guy US ARMY
Sean Dunklin US MARINE CORPS
Tom Saxon US Air Force
Joseph Abel US Air Force
Robert Guyton US ARMY
Peter Rehm US ARMY
Walter Trutenko US Air Force
Johnny Lemus US ARMY
Enjoy your 3 day weekend and if you see a Veteran, Thank them.
Jack Ruiz and Xena Whang heat to Nationals!
Jack Ruiz and Xena Whang competed in the Marshall-Brennan Moot Court competition through the ASU Law School for Mock Trial Club. This competition mimics a court of appeals, so both had to prepare a roughly 10 minute argument they presented to a panel of judges (which was made up of actual judges and lawyers). There were around 40 students competing, and both made it into the top 4 respondents to qualify for the National Moot Court competition in Washington DC in April. Congratulations to Jack and Xena as they prepare to compete in Nationals!
Swim & Dive Competes at State
This weekend Swim and Dive did a wonderful job competing in Sate. They had 12 qualifying times by 7 swimmers and 1 diver! This is the most athletes swim and dive has taken to State in over 20 years!This includes: Eden Bodin with dive, Gordon He, Cooper Davis, Jordan Tuter, Jeff Moore, Henry Good, Natalie Crisci and Emily Maxwell with swim. Natalie won the 100 Butterfly! We also had the following swimmers compete or alternate in relays: William Andrews, Tucker Merrill, Indiana Filburn, Cole Larson, Tate Jacobson, Brian Petersen, Brian Daw, Sandra Franco, Kaeden Frailey, Ruby Carmona, Dani Seaman, Alexa Pawloski, Catherine James, Kady Hamlin and Megan He.
Congratulations swim and dive what a great way to wrap up the season!
Marching Band qualifies for ABODA State Marching Band Competition!
Westwood HS Marching Band has qualified for ABODA State Marching Band Competition, informally known as Super State. Today, we were seeded in 13th place, but after the competition we are now in 5th place! It should also be noted that we took 3rd in Visual Performance and 2nd in Percussion.Super State will be held at ASU Stadium on Saturday November 17th, time TBD.
Jack Ruiz selected as Mesa Sunrise Rotary November Student of the Month!
Congratulations to Jack Ruiz being selected the MESA SUNRISE ROTARY November student of the month. Here is yet again, one of our Westwood Warriors leading by example. Jack is a person with true "winning character" and a most positive role model. Jack is an excellent example of the quality of student that represents the true principles of a Westwood Warrior. Jack will also be one of the finalists for the Rotary $500 scholarship presented in May. Congratulations Jack Ruiz.
Westwood Girls Still Moving Up!
Congratulations to these girls who were all awarded a Young Athena award. Guadalupe Castro won the Lives Authentically award, Monica Carpenter won fosters Collaboration, Natalie Shultz won builds Relationships, Analyce Trevillyan won Advocated fiercely, and Zahra Hussen won Learns Constantly.
Swim & Dive Makes A Splash!
Swim and dive had a great weekend at City Championships with 12 qualifying times by 7 swimmers and 1 diver! This Friday they are taking 7 individual swimmers, 1 individual diver and 5 relays to state! This includes: Eden Bodin, Gordon He, Cooper Davis, Jordan Tuter, Jeff Moore, Henry Good, William Andrews, Tucker Merrill, Indiana Filburn, Cole Larson, Tate Jacobson, Brian Petersen, Brian Daw, Sandra Franco, Emily Maxwell, Kaeden Frailey, Ruby Carmona, Dani Seaman, Alexa Pawloski, Catherine James, Kady Hamlin and Megan He. This includes: Eden Bodin, Gordon He, Cooper Davis, Jordan Tuter, Jeff Moore, Henry Good, William Andrews, Tucker Merrill, Indiana Filburn, Cole Larson, Tate Jacobson, Brian Petersen, Brian Daw, Sandra Franco, Emily Maxwell, Kaeden Frailey, Ruby Carmona, Dani Seaman, Alexa Pawloski, Catherine James, Kady Hamlin and Megan He.
Math Club takes First Place!
Westwood's Math Club competed against more than 40 teams from 12 schools at a math competition sponsored by NAU. The Westwood team of Jeffy Ngo, Liam Wilson, Aviva Bergman, and Megan He won First place! Go Westwood Math Club. 10/2018
Mrs. Valle Wins Classroom Upgrade!
Congratulations to Jenny Vale for being a recipient of the Fiesta Bowl Charities to upgrade her classroom!!!! 10/2018
Miss Jane to be honored November 13th!
Congratulations Miss Jane! You have been selected to be honored by the Oriental Masonic Lodge recognizing your excellence in education, at a ceremony on Tuesday, November 13, 2018 at 6:30 p.m. The lodge is located at, 726 N. Center St. Mesa.
Westwood FFA wins at Arizona State Fair
Congratulations to the Westwood FFA Members that participated in the Arizona State Fair. Andrew Payne, Daesha Begay, Jessica Dovenspike and Grace Torres. After 2 full weeks of participating in the Fair Westwood students came away with many high awards from the Fair. Not only did the student receive trophies and ribbons, they also where awarded cash prizes. The awards we received are:
Overall Best of Show Rabbit
1st Place Dairy Goat
Reserve Champion Dairy Goat
Champion and Reserve Champion Medium Duck
Overall Champion and Reserve Champion Duck
Overall Champion and Reserve Champion Waterfowl
Overall Supreme Champion of Show Poultry
Congratulations again to the Westwood FFA Chapter! 10/2018
Brian Buck Makes News!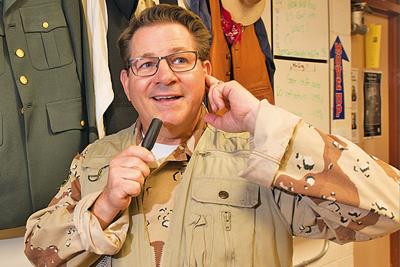 Brian Buck keeps a closet full of costumes that he dons to teach history at Westwood High School in Mesa, where he has taught since 1990. His International Baccalaureate courses aim to bring American history to life for his students.
Behind the doors of Room 308 at Westwood High School is a wardrobe of costumes resembling the outfits of Civil War soldiers, President Theodore Roosevelt, unemployed workers during the Great Depression and other historical figures.
Those costumes help Westwood High School history teacher Brian Buck bring the story of America to life for students.
Buck, a teacher at Westwood since 1990, began building his costume collection of historical figures to entertain and engage his students by dressing up and acting out his lessons.
"There's certain things you can only get from a book," Buck said, "and that's the place you start. But when you relive a period of history or a moment in history, then it really excites your imagination."
Westwood senior Annika Reimers said Buck has an "uncanny ability" to make history interesting for students because of his storytelling approach to teaching.
Reimers recalled a lesson of Buck's in which he portrayed Davy Crockett.
"He dressed up in this coat and this fur cap with a raccoon tail hanging off it," Buck said. "He grabbed a yardstick and pretended like it was a weapon, and he jumped on top of the desks and started walking around. That was pretty memorable."
When he's not in the classroom, tutoring students or advising the Model UN Club, Buck can be found reading historical novels such as "Rocky Boyer's War," a personal narrative about a pilot during World War II.
"I try to find niche histories that fill in my gaps of my knowledge of history," Buck said. "By now I have a broad knowledge of history, so I'm always trying to fill in the pieces of the puzzle that I don't understand."
To "round out the nerdiness," Buck said he also belongs to a Civil War reenacting unit in which he and other members in his unit participate in around five weekend-long reenactments throughout the year.
During these weekends, Buck dresses as a Civil War soldier, lives in a canvas tent and cooks over an open fire.
Not only does Buck immerse himself and his students in history, but he also "goes above and beyond what you would ever expect of a classroom teacher," International Baccalaureate program director Jake Davis said.
For National History Day, Reimers said Buck drove her and several other students to a regional competition in Tucson when they weren't able to drive themselves.
She said Buck "went out of his way" by waking up early to drive them to the competition, waiting until the event was over and driving them back afterward.
"That just was another thing that demonstrated how much he cares about his students, and it was really memorable to me," Reimers said.
Reimers said that she and her classmates view Buck as a father figure because of how invested he is in his students' lives.
"I feel like Mr. Buck is just such a great person, and if you don't have someone positive to look up to in your life, he just feels like that type of person," Reimers said. "(Students) don't want to disappoint him like they wouldn't want to disappoint a father whose opinion they really care about."
Some of his students even refer to him as "Papa Buck" because of his caring and paternalistic nature.
"I want my students to see that there's love and grace and that they can have that for people in their own lives," Buck said. "And that goes beyond just being a teacher." 10/8/2018
5 WW Girls reconginzed as a Young Woman Leader for all of Arizona!
Five Westwood girls are Young Athena recipients and have been recognized as a Young Woman Leader for all of Arizona. There were only seven recipients in Arizona and 5 of them were from Westwood! Congratulations to:
Guadalupe Castro: Awarded Leader for Lives Authentically
Natalie Schultz: Awarded Leader for Builds Relationships
Analyce Trevillyan: Awarded Leader for Advocates Fiercely
Sahra Hussen: Awarded Leader for Learns Constantly
Monica Carpentar: Awarded Leader for Works Collaboratively
Way to go girls! Keep "Moving Up". 10/2018
Earnest Brown selected as the Mesa Sunrise Rotary October Student of the Month
Congrats to Earnest Brown for being slected as the MESA SUNRISE ROTARY October student of the month. There is no doubt that Earnest is a student that leads by example. Earnest is a person with true "winning character" and a most positive role model. Earnest is an excellent example of the quality of student that represents the true principles of a Westwood Warrior. Earnest will also be the one of the finalists for the Rotary $500 scholarship presented in May. Congratulations Earnest Brown. 9/2018
September Students of the Month
Congratulations to our September Students of the Month: Natalia Calzada Miranda, Elianna Zamora, German Lozano, Konnor Fife, Tucker Merrill, Samuel Price, Christian Augafa, Jack Ruiz and Earnest Brown! Way to Move Up!
Westwood Robotics wins State!
Westwood Robotics Team 2478 had an amazing performance at the Sanghi Foundation Robotics State Competition last Saturday. After qualifiers they were chosen for the 1st ranked alliance then went on to win the 2018 Robotics State Championship, for the second time in four years. Way to go robotics! 9/2018
Senior Application Day is a Hit!
The college representatives commented on the maturity in attitude and critical thinking they experienced in their conversations with the kids. Something that has been lacking in the past. Our student participation goal was 607. This is the number of students currently on track to graduate. At the end of the day, 435 completed applications and 139 applied for FAFSA ID's. Students who applied for FAFSA have previously applied. This gives a TOTAL of 574 completed college/university applications and 139 with the promise of completing a FAFSA when it opens Oct. 1st. This puts us at 95% of our application goal! There will be more to come and much more in follow up planning to meet our FAFSA goal. 9/21/18
WHS Volleyball Swept 3 Matches
Our WHS volleyball teams hosted Mountain View last night and freshman, jv and varsity teams swept all 3 matches. Varsity were led by Annie Hansen, Star Sato, Macie Biggs, Braylin Palmer, Macy Tingey, Sydney Dastrup and Jaiden Kerhoff. Way to Move Up! 9/20
August Students of the Month
Congratulations to our August Students of the Month: Maria Sanchez, Myna Lackey, Christopher Rodriguez, Samson Harris, Amy Bryan, Jacob Bustamante, Maria Quiroga Coronado and Colton Cagle. Way to Move Up!!
Gary Antone Moves Up!
Gary Antone has been offered an opportunity in the 2018 Fall Youth In-School Work Experienc, he is also participating in the SRP Youth Police Training Program. Way to keep Moving UP! 9/12
Arleanna Arreola Palmores takes her age category at the Ft. Hills Invitational!
Congratulations to Arleanna Arreola Palomares who won her age category at the Fountain Hills Invitational cross country meet on Saturday. Arleanna ran an outstanding time of 21:42 to take the win against 160 competitors from 40 different schools. 9/10
Tara Ruhland won a poetry contest with Mesa Sister Cities!
Congratulations to Tara Ruhland who won a poetry contest this summer with Mesa Sister Cities. Nic Guerrero and Charlie Boyle from Westwood were also participants in the summer exchange program.
This past summer our 3 Westwood students were able to travel to other countries after being selected from a rigorous application to represent the City of Mesa in this exchange program. Part of the Sister Cities program was the Young Artists and Authors Showcase. This year's theme was the "Art of Diplomacy," having to do with the importance of the role of a citizen in seeking peace diplomatically. Tara submitted a poem titled "Eden" that centered around the theme and was honored to receive first place in poetry citywide. From there, her piece was entered into the Sister Cities International competition where we are excited to announce that her poem won internationally as well! In the upcoming months, her work will tour nationally, hosted by different cities involved in Sister Cities International. Congratulations Tara! 9-8-2018
Westwood IB Teacher, Katie Garza, Recongized
We are proud to announce that Westwood IB Teacher, Katie Garza, was recognized as the 2018 Arizona IB Middle Years Program Teacher of the year. 9-7-2018
IB Senior, Kalena Oorlog, selected as a 2018 Arizona IB Diploma Program
IB Senior, Kalena Oorlog, who was selected as a 2018 Arizona IB Diploma Program Student of the Year. She too receives a plaque and in addition, a $500 scholarship for her achievements. 9-7-2018
Michelle Dao was recongnized as the 2018 Arizona IB MYP Student of the Year!
IB Middle Years Program (MYP) Graduate, Michelle Dao was recognized as the 2018 Arizona IB MYP Student of the Year. She received a plaque and a $50 gift card as a part of her recognition. 9/7/2018
Westwood Senior earns Leadership Enterprise
Westwood Senior-Jessica Saenz Gomez was selected as a scholar for the Leadership Enterprise for a Diverse America in which only 100 students in the nation are selected. Over the summer of 2018, she attended the LEDA Summer Institute at Princeton University in New Jersey. 9-2008
Westwood FFA wins Awards
Maricopa County Farm Bureau Education Award Presented to Westwood FFA for Promotion & Education of the Agriculture Industry - 2018