Jodi Gilletti- Freshman Science, Environmental Science, and Soccer.
Please use my email address below for all correspondence.
Students: Please bring your device to class everyday, and make sure you bring it charged! Some days we will not use a computer at all, so in that case you will need the following supplies:
Strongly Suggested Supplies:
- one spiral notebook for science only
- pencil and/or pen
Suggested Supplies:
- colored pencils, markers, ruler, glue stick, calculator
Education and Experience
Certification: 7-12 science
Endorsements: ESL and biology
Degrees: M.Ed-. Educational Leadership,
B.S. Wildlife Biology
Other: CRESMET- Pathways program for math and science teachers
MSTF- Math and Science Teaching Fellows Summer Program
Teaching Experience: 15 + years
Tutoring is available before and after school by appointment.
Fill out form for computer check out. You will be asked to enter your school email address before you have access to the form for computer check out.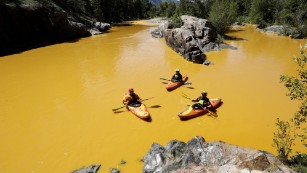 This environmental catastrophe of the Animas River hits close to home for me and many others in the southwest.