Academic Tutoring and Assistance:
Room 815 with Coach DiDomenico
Tuesdays 7:45am-8:10am; 4th Lunch
Thursdays 7:45am-8:10am; 4th Lunch
Anthony Robles to lead Mesa Wrestling
click on picture for story!

Click on Picture! Scroll to 57:30
Video Here! Scroll to about 57:30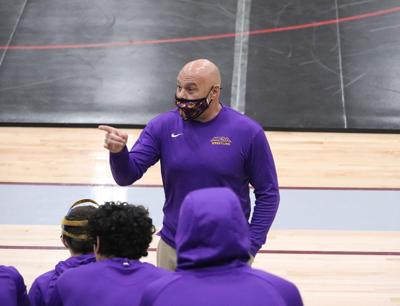 Train like Rocky! What is your DREAM??
Stallone talking about the Movie
Dwayne the Rock Johnson Talks! Remember the Hard Times-- Overcome!
Current 2021 newspaper articles:
Podcasts:
Building a Culture of Success: Today's feature is on Mesa High Wrestling Strength of America Podcast, Episode 59 Part 1
---
Articles on our Wrestling Team! Click on Pictures for hyperlink.
Mesa High Girls Wrestling Articles
All of the girls wrestlers stand together at the end of the Tolleson All-Girls Classic wrestling tournament at Tolleson High School (Photo: Dana Scott/The Republic)
---
Mesa High Boys Wrestling Articles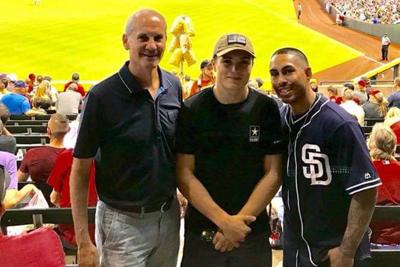 Click on Pictures for Articles on the Team!
State Champions
1977, 2006, 2007, 2008
State Runner up
1983, 1988, 1991, 2009, 2010

Regional Champions:
1975, 1977, 1978, 1983, 1985, 1988, 1991, 1992, 1994, 1996, 2000,
2006, 2007, 2008, 2009, 2010, 2011

MesaWest Freestyle Club 3X State Freestyle Champions
Alumni:
Mesa Wrestling Culture
(Principles of Show up, Work Hard, Be Coachable)
Mesa Wrestlers are expected to honor the storied tradition of the program by acting in the following ways


| | |
| --- | --- |
| Attend all practices | Win a match when trailing in the 3rd Period |
| Pass all classes | Edge of mat not giving up a TD |
| Participate in Academic Intervention Program | Cut-> Win next TD before period ends |
| Wear Mesa Gear to all Team Events | Short time-> Ride out; Escape |
| Participate in all team events, fundraisers and philanthropies | Do NOT get pinned |
| Compete demonstrating toughness and pride | Win a match when trailing in the 3rd Period |
---
POWER of FRIENDSHIP by former Mesa High Wrestler and All-Pro NFL Receiver Vai Sikahema
---
Team holding 2006 State Champion Trophy
"I don't believe in self-esteem. I believe in self-respect! And only as much of it as you EARN!" -Jane Haddad
Joe Loera grinding Mt View opponent into mat at state title dual. Loera eventually pinned his opponent. Mesa won the dual and the championship, 38-23.
Mesa Wrestler Anthony Robles (President's left) with President Obama